I am going to pull you aside for just a second and tell the truth that most people skirt around. It's a bit painful, but it's a fact. When a man says that he doesn't want a relationship, isn't ready for a relationship, or isn't the relationship type; no matter what syntax he uses… he is telling you the truth, just a softened version it. 
Now, this doesn't mean that he won't be ready for a relationship in the future, but some things have already happened that have led him to make up his mind about you. Although he may change his mind about relationships, he most likely won't change his mind about one with you.
So, what can you do? How do you go from someone he's dating to someone he wants to marry? Well, assuming the compatibility and attraction factors are truly there, here are a few tips that definitely work at getting him to commit.
1. Teammates (a united front)
This might sound silly to many of you ladies, but most guys are competitive by nature, and they need someone on their side. I cannot fully convey with words alone how important this is. Married couples feel the most distant from each other when they're not working as a team. 
This doesn't mean you have to agree with the guy you like on every single topic (however, a healthy amount is very conducive for compatibility). It's more about the little things. For example: If you are out to eat and your relationship hopeful makes a joke about a pair sitting across the way, don't just smile or laugh.
If you at all find what he said to be truthful or amusing, expand upon it. Crack out your own witty remark. This lets him know (in a weird way) that you two work well together, you understand him, and that you'll be there to help when he needs it.
2. Be His Muse (Inspire!)
"Behind every great man, there stands a great woman." This quote couldn't be truer. Nowadays, we pay so much attention to building our own careers that we forget to properly support and inspire our partners.
You don't have to be cheesy or dramatic. Just be honest, constructive, and positive. If it has something to do with his job, ask him what he does, have him explain it to you, or do a quick Google search about his company. Then you can give him a genuine, well-thought-out opinion when he voices his concerns.
Other Ways To Inspire him:
Encourage him.

If he is feeling down, point out past success and the strengths you see in him which may allow him to succeed again.

Be earnest and respectful when he is wrong. Handle the situation with positivity and patience (he will realize that it is alright to be wrong around you and may not fight so hard to be right).
3. Roll With The Punches and Don't Force It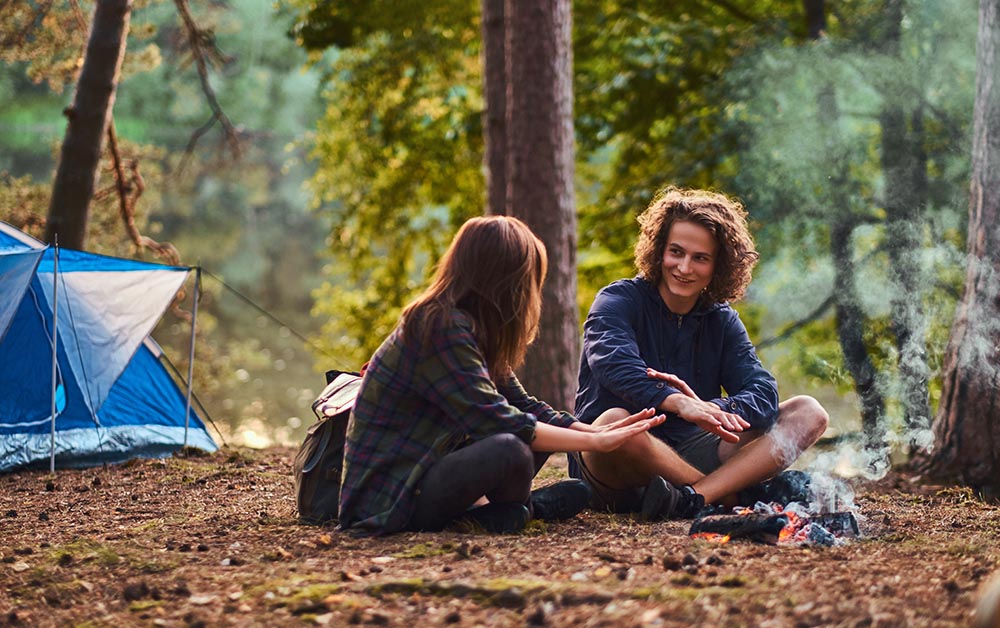 If you follow the advice I have given you so far and your relationship with your man is healthy and natural, there's a good chance he will eventually commit to you. However, don't try to force his decision, just let nature take its course.
Rather than suddenly bring up commitment, wait for the opportunity to present itself. For example, you may be going on a trip without him. That might be the best time to gently bring up the topic of commitment.
Doing this will also give him some time to think. He may realize you could have other romantic opportunities if you're jet-setting alone or with friends. And he won't want to lose you.
You may wonder how some space would get your partner to commit to the relationship. Won't you just grow farther apart? It may seem counterintuitive, but it does two things for him.
First, it gives him an idea of what general, everyday life is like without you compared to what it's like with you. He'll have time to mull over whether he wants a lifestyle with more of you in it or if he'd rather maintain the status quo.
Second, it tells him that you two can still have your own lives. Neither of you has to give up fun trips with friends. You'll just have someone to go back to once the adventure's over.
4. Get To Know Him Better
Though women tend to say men are shallow and are mostly interested in having sexual intercourse, he would definitely want to dig deeper with "the chosen one."
If you want to start speaking the same love language, get to know his family background and bond with his friends instead of being jealous of him spending so much time with them. Also – be there when he wants to talk, but make him feel comfortable and devoted so that he feels like he wants to start sharing with you. 
5. Respect His Values and Beliefs
What makes a man fall in love and commit to a woman is her respecting his views. You can have opposite opinions on certain topics – just ensure you show your man you're fine with it and are willing to accept his point of view.
Even kings in war sit at the same table and deliberate the future course of their conflict, so you and your partner should be more than open to sharing different opinions without always fighting over the "right" view. If he's "wrong" all the time, that can be a huge deal-breaker for him.
Find a Committed Partner Through Luma Luxury Matchmaking
Find your match with Luma Luxury Matchmaking's matchmaking services. You'll get a quality introduction to a candidate also in search of a healthy, long-term relationship. 
Call us at 1 (844) 822-5862 to apply for membership for free.
Also, if you have any tips on how to get a guy to commit, leave them in the comments below.
Always remember: you can find the love you've always wanted and receive the love you deserve. You just have to Take the First Steps Now!
---
---
---